®
Onboarding
We help you setting up and integrating Zendesk® for an Outstanding Customer Experience with Suite Support and Sell.
Implement Zendesk®´s Best Practices from Day 1
Our experience at Zendesk® will help you improve your omni-channel Customer Experience, Sales and Internal support by using Zendesk®'s functionalities, methodology and recommendations. You will be able to:
Allow your customers to communicate with you however they want (whatsapp, chat, web form) and keep the conversation flowing using the most convenient channel for you in each interaction (the previous ones or phone, SMS or email).
Improve your CSAT (Customer Satisfaction).
Increase your sales and pipeline control using Zendesk® Sell.
Save countless hours by putting in place procedures that save time for both your customers and your staff.
Keep your customers engaged with no extra work from your side by leveraging the power of the help center, triggers and automations.
Get the most out of Zendesk® with Integrations
As you're onboarding, take advantage of our experience as both Zendesk® employees and consultants. We have made dozens of integrations for diverse companies. Working with us, you will benefit from:
Starting conversations with customers and prospects through WhatsApp.
Outbound messages and notifications beyond the 24h rule to start and keep conversations on Facebook Messenger, WhatsApp, and Instagram DM.
Making the most of Zendesk® omni-channel features (WhatsApp, email, phone, etc.).
Selection and configuration of the best marketplace applications for your business.
Specific apps & integrations we can develop as of your processes & systems map.
Design, layout and integration of your Guide Help Center, as per your business requirements.
Advanced Support Widget configuration in your website/app.
Quick Messaging set up and Flow Builder design for more personalized experiences for end users via web, mobile, and in-app.
Deeper personalisation of Zendesk through Sunshine's objects, relationships, events, and profiles.
Social Media and Social Messaging Integration
Zendesk® supports the most popular Social Messaging Apps out of the box: WhatsApp, WeChat, LINE, Facebook Messenger, Twitter Direct Messenger and Instagram Direct Messenger. Agents handle real-time interactions in a conversational manner through the same agent workspace they use for email, chat or phone communications.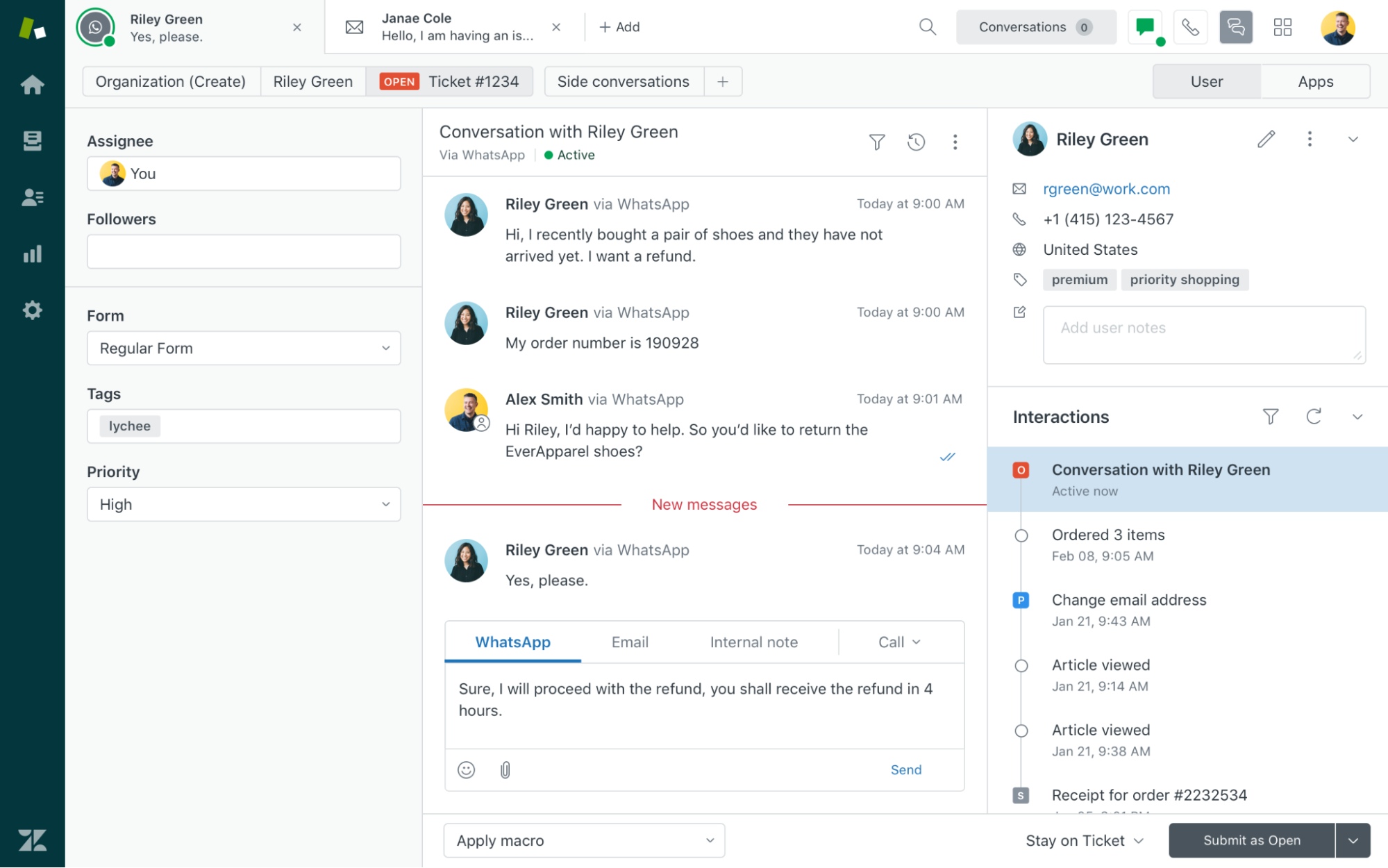 With Zendesk, you can also support public posts on your Facebook and Twitter pages, handling communications on those social media & networks in the same interface you use for email, chat, messaging or phone queries.
We can help you see how Zendesk® supports Social Media and Messaging and work with you through the onboarding process to decide whether servicing through them is useful for your Customer Experience.
WhatsApp Connector
In order to help you make better use out of WhatsApp, we have developed a WhatsApp Connector that allows you to:
Start conversations with customers and prospects.
Avoid the 24h response limit from Meta.
Send templated WhatsApp notifications easily using Zendesk Support Macros.
Add proactive WhatsApp notifications to your triggers and automations.
Let other applications or tools like Zapier or Workato deliver WhatsApp
notifications.
Send WhatsApp notifications when specific events occur (an order is placed, a booking is made, etc.)
Create WhatsApp Marketing Campaigns.
Deliver WhatsApp notifications in bulk.
Track your messaging activity using Zendesk Support Views and Zendesk Explore Reports.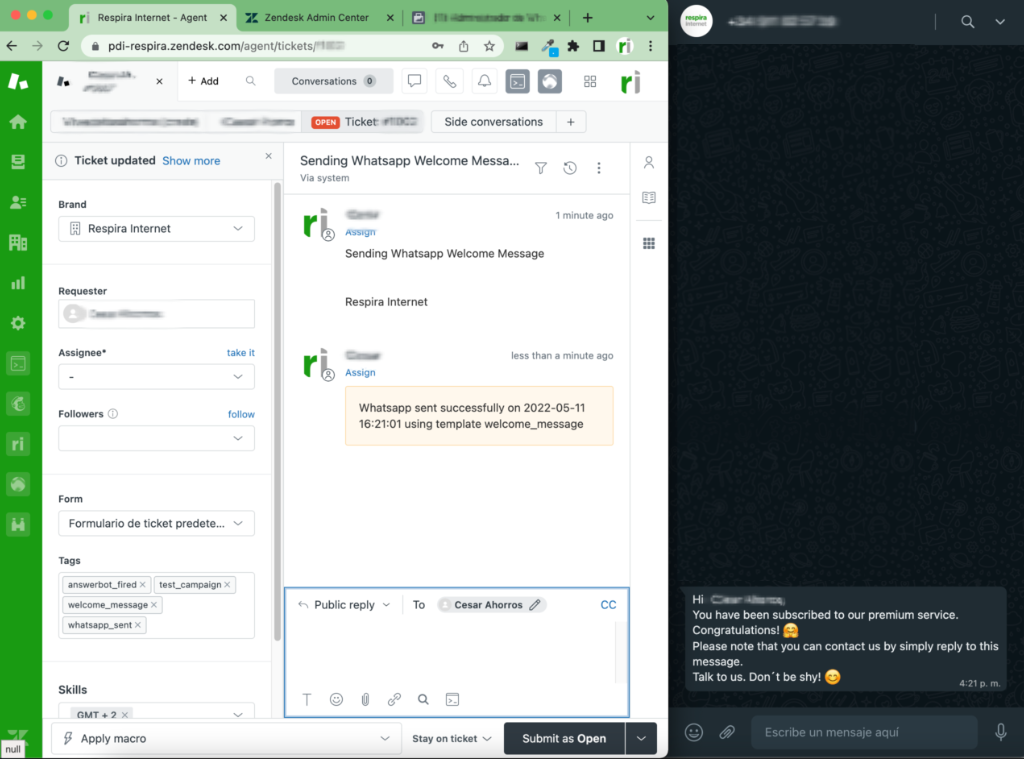 You can find our Connector in the Zendesk® Marketplace. You're also welcome to contact us for a free consultation or read more about our connector here.
Support & Sell Integration
B2B and B2C companies that manage leads or opportunities frequently use Service and Sales automation software for important parts of the customer lifecycle: information requests, prospects, deals, self-service help, omnichannel customer support, shared documentation, etc.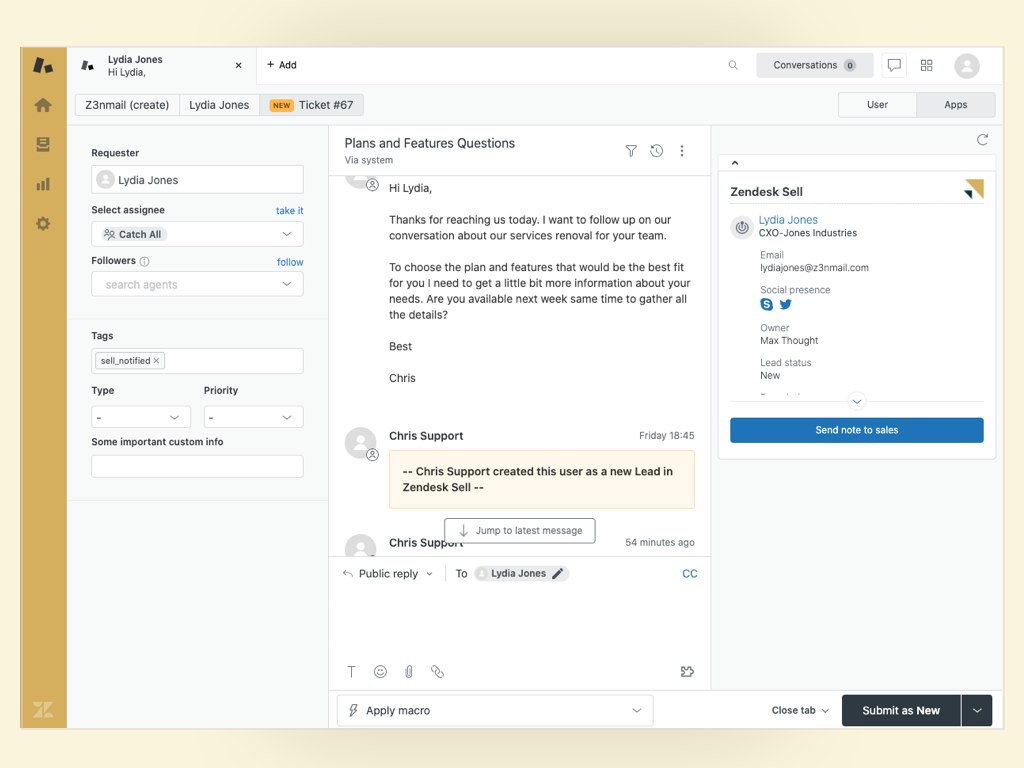 Chat & Sell Integration
Companies selling online frequently capture leads and even close sales through a combination of Chat and Sales automation software that allow them to capture information requests, record customers and prospects demography, and manage opportunities/deals for longer sales cycles.
With our guidance, Support & Sell and Chat & Sell Integrations are set up and onboarded quickly. We can fine-tune the workflows, setting up your CRM and Customer Information strategy around Zendesk®.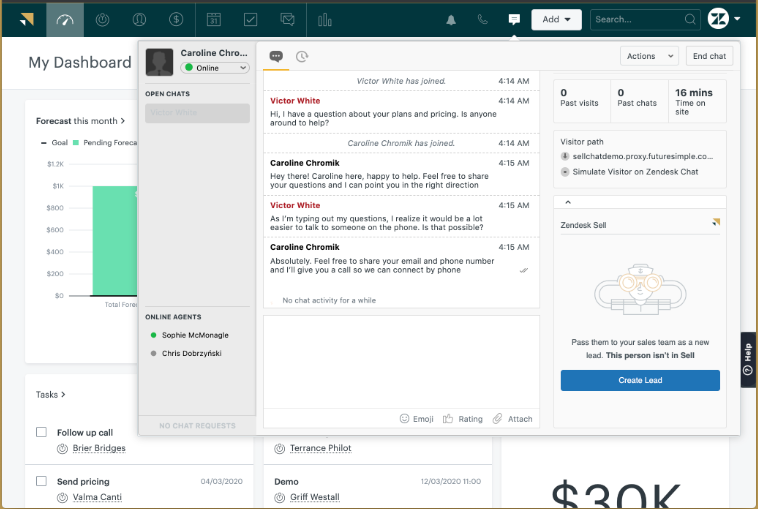 Google and Microsoft Migration and Integration
Google Workspace (formerly G Suite) and Microsoft Office are the productivity software that startups and new ventures primarily use. However, as a company grows, it becomes necessary for a CRM software like Zendesk®. While it may be nerve racking to switching to Zendesk, our expertise makes the transition seamless. Not only that, but we can integrate many of your favorite parts of Google and Microsoft into Zendesk®.
Contact Us
If you believe we can help you onboard Zendesk® to make your business as efficient as possible, please schedule a free call with us by going to our contact page. We look forward to working with you and watching your business flourish!
Do you prefer trying yourself first?
If you do, please click on these buttons:
Suite Support
Sell